What exactly is a college student resume?
Your college student resume is a concise and relevant document outlining your education, experiences, applicable skills, and demonstration of your ability to add value. Typically, your resume will be one page, given that your career experiences coming right out of college are limited. If looking for an internship or a full-time position, employers are looking to see what skills you're going to bring to the job. Hiring managers and recruiters don't expect you to bring years and years of experience to the table. Instead, employers want to see how you've applied yourself in your college years, what you're looking to do with those skills, and your ability to work in teams.
What should you include on your college student resume?
Both applicant tracking systems (ATSs) and human readers want to see specific information about you and how you will more than likely perform on the job. The traditional sections of your resume would include:
Contact Information: It's not necessary to include a street address any longer, but you do want to have a city and state, phone number, e-mail, and a link to your LinkedIn profile.
Education: list your college or university degree right at the beginning. It is helpful to see applicable coursework you may have taken that will help you excel in your new position. It's appropriate to list student organizations that you were active in that relate to what you are hoping to do in the future. Show your academic achievements like a GPA, if it's above 3.5 out of 4.0. You should show Dean's list, academic scholarships, and other academic achievements in this section. It is not necessary to show your high school.
Relevant skills: It can be helpful to list your relevant functional and technical skills in a separate section. This allows the human reader to see quickly where your expertise might lie.
Experience: List your work experience in reverse chronological order. In other words, show your most recent experience first. Keep in mind that experience doesn't necessarily mean paid full-time positions. Be sure to list your internships, significant volunteer positions, and student leadership roles.
Hobbies and Interests: Depending on how much room you have on your resume, this section is optional.
Getting Started Writing Content for Your Résumé
First, spend time thinking and writing out your accomplishments. Write out the situation, the tasks you did, the actions you took, and the results you achieved. This is the S-T-A-R format.
After you have your accomplishments written out, write a complete sentence or thought that can be used as a bullet on your resume. Strip out unnecessary information and nonrelevant content. Use keywords that are necessary for the positions you are targeting.
Then, step back from your list. Take a break. Come back to them with a new lens and see if you can make it even more relevant while still being succinct. Have someone else read the bullets to be sure it is easily understood and shows you in your best light.
Sample College Student Résumé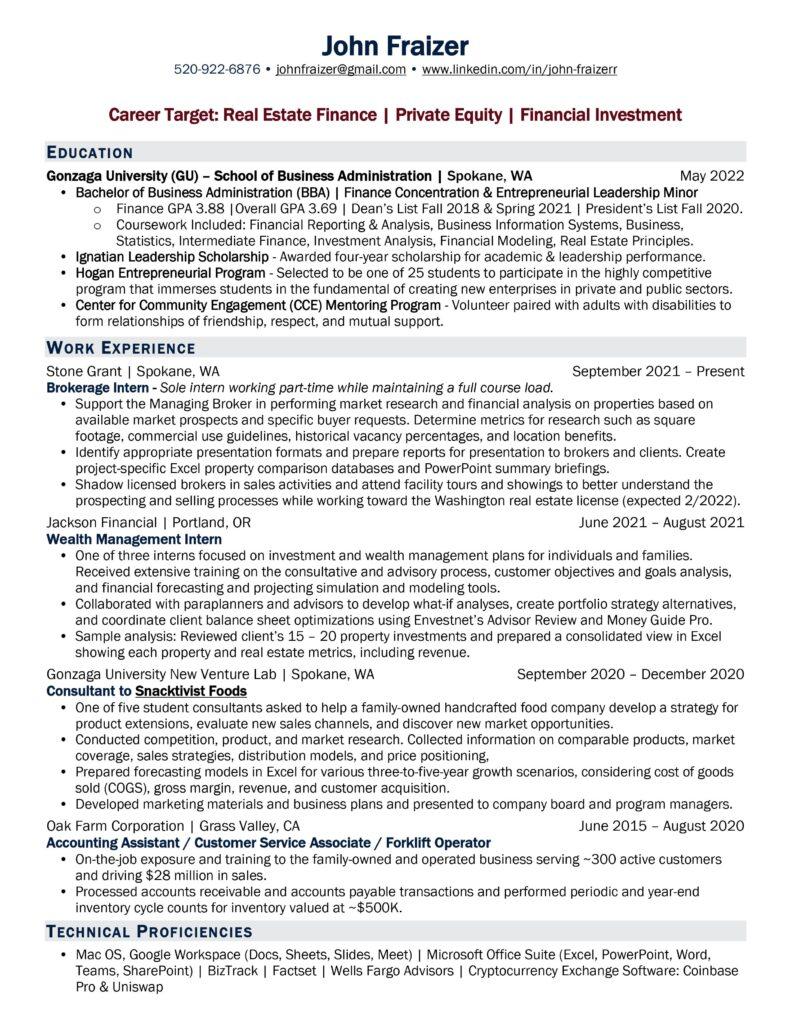 Your college student resume will go through a number of iterations. As you network and interview, you will learn what information is resonating and what might be confusing. Use the information to review and revise the content.
And to all the college students out there, here's to your success!