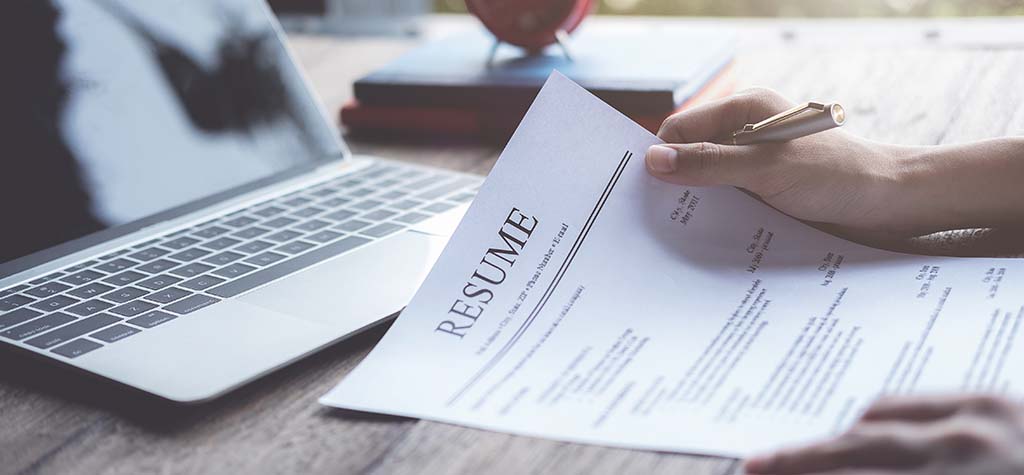 The first important item for your resume format is putting your contact information on the top so a recruiter can see right away how to get in touch with you.
Next, a summary or objective statement that denotes an indicator of your aspirations. This can be described with either your skill sets, signature characteristics, unique identifiers, or something that notifies the reader who you are and what you do or hope to do.
Best Resume Format
The best resume format is the 'reverse chronological' which lists your most recent experience first. Include employment history, employers' names, city and state, and dates of service of each job. Use bullet points to list your accomplishments, not just responsibilities, because those will be your differentiators.
At the end of the resume, note your college and post-graduate work. This can also include coursework taken outside of a formal degree program. You can also mention any certifications or educational courses, credentials, or technical skills.
Keep in mind that the initial half to one-third of a resume format is what the human reader will read first to see who you are and what you're seeking. Make sure to maximize that part of the real estate of the page.
Job titles are not universal among companies. Make sure your job titles are descriptive of the work you did. If you dealt with customers on the phone and your title wasn't customer service representative but product marketer, that's a different connotation when you're looking for a job. You might want to list both job titles, so that position can align with what a recruiter is looking for.
If you are looking to do a career pivot in your 40s, 50s, or later in your career, consider listing some job experiences slightly different. For work experience that is ten or more years old, avoid implicit or unconscious age bias by listing years of service parenthetically next to the job title. List it in italics because using that font is typically viewed as ancillary information.
The Latest Resume Format
People are using infographic resumes that are based on visual representations of skills and experience using timelines, graphs, icons, or bar charts. That type of resume isn't read well by an applicant tracking system (ATS). You may want to have two resumes, the other listing your experience and education more traditionally.
Updating Your Resume In 2020
In 2020, although many resumes are read by Applicant Tracking System (ATS) software, they have limitations on the creative side. You can still provide a contemporary look for today's market. Color and different fonts, banners, or borders, used sparingly and intentionally, can be a unique way for your resume to differ from everyone else's.
Depending on the industry you're looking into, you want to follow suit. If it's a more conservative industry, you want a resume style to reflect that standard versus something that might be more creative. You should make sure you still have the content around your experience, your number of years of experience, and your accomplishments, but you can still have a little more fun with the actual format of it.
Four Types Of Resumes
Functional
A Functional resume groups your work and accomplishments using functional classifications. If you're looking for a certain role, say supply chain operations, and your experience was gained earlier in your career, a functional resume can bring those accomplishments to the front.
Reverse Chronological
A Reverse Chronological resume lists your work history in sequential order, starting with your most recent job first.
Combination
This style is ideal for candidates with a diverse background of experience or when skills and abilities are more relevant than work experience.
Targeted
This is a more skill-based formatted document in which you list accomplishments that might be more prevalent in jobs you're searching for (eg leadership skills, data analytics, communication). Add a skill or objective section, then go into descriptive skills. List your jobs in reverse chronological order with no bullet points. This works well if the oldest experience is what you're selling in the market.
Chronological Resume Format Versus Functional Resume Format
Typically, the reverse chronological resume format is better than the functional resume format because it is what is expected by companies and an ATS.
You can use a combination resume format and still have it read by an ATS by having your headings align with what an ATS expects to see. You could still have a section that says experience, which is what they're looking for, that has your company name, your title, and your years of experience, but no bullet points under it. An ATS would recognize that and give you credit or add up the years of experience you have against the job description. Follow this with a section titled "Functional Skills" so the ATS knows not to look for a chronological assessment of your experience. You can have a hybrid. It just needs to be formatted and sectioned appropriately so an ATS knows what it's going to see with those headings.
Using A Resume Builder To Create Your Resume
There are resume builders that allow you to enter in information to use for an ATS and the human reader to showcase your transferable skills. Sometimes resume builders look generic and recruiters want to see your brand on paper. Take time to personalize your resume, how you come across in the market, what's important to you, and then tailor it to companies and positions you are working towards.
Bullet Points And Font Sizes In Cover Letters And Resumes
A resume and cover letter may be read by an ATS, but your ultimate goal is to have them read by a human being. Be cognizant that they need to be read by both types of users. Bullet points and font sizes matter more to a human reader. ATSs don't differentiate between font sizes or the type of bullet point you might use.
You want them to be readable without assistance like a magnifying glass. We normally recommend you don't go below a 10.5 font and that's even small in some sections. Make sure that it's readable once you print it out. An ATS doesn't care if the bullet point is three or ten lines long, but a human reader does. Typically a bullet point three lines long is the easiest to read.
What To Include In An Updated Resume Format
Because ATSs look for keywords associated with a job description, be sure to include technical skills like Microsoft Office, SharePoint, or Zoom. We tend to think that because everybody knows how to use them, it isn't necessary to note, but that's what the ATS is looking for on your resume. If you don't include that information, you're losing an opportunity when they start to add up the percent that you qualify. We don't want to remove that content from an updated resume, although it might seem out of date to add.
Be sure you have an appropriate email address and a phone number, a way for somebody to contact you. A physical address isn't as important. Your email address and phone number are critical. Many people don't put those on because they think the resume will move with their application. If for whatever reason the application file scanning doesn't work, you want to have a way for somebody to be able to contact you to get more information.