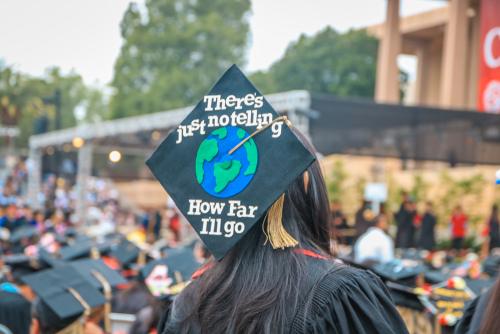 If you are getting ready to graduate and don't know how to choose a career path, you might consider leadership development or rotational programs.
➥ What is a leadership development or rotational program for college graduates?
There are a few names these types of programs might go by. Titles such as Leadership Development Program (LDP), Management Development Program (MDP), or Rotational Program are interchangeable. For purposes of this article, I will refer to them as LDPs. Whatever they're called, rotational programs are a fantastic opportunity for students looking to choose a career path.
An LDPs is a structured program that allows employees to participate in and rotate through specific business functions of a company. Rotations may take you through a number of functional areas like sales, supply chain, or finance. Depending on the functional area and company, the duration of one rotation can last several months, with the entire program being from a year to three years.
➥ What are the benefits of starting out in an LDP?
Built In Network: Typically, you are hired as part of a cohort or group that starts their employment at the same time. Everyone in your cohort is experiencing the same program but may be in different functional areas at different times. Having a readymade group of individuals to network with and share experiences can relieve the anxiety you might have in joining the company.
Mentorship: Often, your cohort receives individualized and group mentorship from the executive team and other employees at the company. Exposure to people in different areas of the company early on in your career can make a huge difference in your career trajectory and impact.
Exploration: The LDP allows you to test drive various jobs or departments within a company that may help you choose a career path. You will work with and explore different departments, different managers, and different projects or activities. The variety of the program is the primary benefit. During your rotation you will learn if there is an area you might want to build your career around. And it is also a massive benefit to the company. In most cases, at the end of the program, you and the company will determine where you want to land permanently.
Win Win: You and the company will benefit from the fact that you have seen different aspects of the company that will help you as you approach a more narrow focus. The company will see how you perform and interact in a specific functional area and understand your long-term potential.
Market Relevance: If you choose to move on from your company after completing the LDP or are working in a specific area, you will have a leg up in the job market because of the various areas you were exposed to.
➥ How do you find an LDP?
Almost every Fortune 500 company has an LDP of some kind. Check in with your career services team to find out what companies typically recruit from your university and have LDP programs.
An internet search would also give you direction on companies that offer programs of interest. Be aware of the different titles that the program uses and use those terms to facilitate your research. Knowing the titles, you can discover rotational programs on job boards like Indeed.com and LinkedIn. In an early post on How To Use LinkedIn to Find a Job, I share some tips on searching and finding positions of interest.
➥ What information is available about LDPs?
A recent blog post by BetterUp highlights four leadership development programs. This is an example of the information you will gather from your research. Company profiles and case studies will outline the program and may supply contact information for those in charge of the program. Network to find out more about how you might take advantage of LDPs.
➥ Let me help you.
Networking and job search can be daunting and sometimes frustrating. I can ease that frustration. If you'd like to talk more about how to choose a career path or search for an applicable role, let's talk! Set up a time to talk.